Reach™ Holster Safe
$225.00 $299.99
Reach is a biometric holster safe that provides immediate access without compromising personal security. Through changeable holster inserts, Reach is compatible with a variety of handgun types. Currently, Reach holster safe does not support light or laser attachments.
In the box:
Reach holster safe
Holster Insert (handgun specific)
Charging Mount
Mounting Hardware
Charging Cable/Block
User Manual
Customer Reviews
05/07/2020
Anonymous
United States
I would HIGHLY recommend this product.
Easy setup and easy to use.Awesome product works well. Highly recommended. Excellent customer service. I've sent Email to ask for finger print reset (just in case I did something wrong) and got reply Email with full step by step instruction within 2 hrs. You guys are the BEST. Thankyou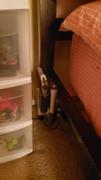 04/28/2020
Anonymous
United States
04/18/2020
Jerome
United States
04/14/2020
JimmyZ
United States
Excellent product, probably over-priced
I received this a week or so ago and am utilizing it with my Glock 23. The set up was relatively easy with the exception of the spring and locking mechanism. It took me a few hours to trying failing - walking away (to ensure I didn't throw my new $300 investment) and trying again, until I got it right. If the spring and the lock are not JUST right, when you go to release your firearm it will not spring up. Which causes it to remain stuck in the holster Once you figure out the right way, it works flawless. I am still not certain it is a $300 product, however, when you are the only product that offers anything close, I guess you can set your own price. I hemmed and hawed over it for weeks. When I finally broke down and made the purchase, I was ecstatic. If you are on the fence about this product, I assure you it is a good purchase. Until someone else competes with their idea the only draw back is the price point. Oh and customer service was super friendly. Almost instantaneous responses on Facebook messenger. They even offered to swap out my model soley based upon my serial number being 666 . They seem to have their company in order. I declined the swap after figuring out the spring issues, so I can't speak to the exchange process.