Reach™ Holster Safe
$225.00 $299.99
Reach is a biometric holster safe that provides immediate access without compromising personal security. Through changeable holster inserts, Reach is compatible with a variety of handgun types. Currently, Reach holster safe does not support light or laser attachments.
In the box:
Reach holster safe
Holster Insert (handgun specific)
Charging Mount
Mounting Hardware
Charging Cable/Block
User Manual
Customer Reviews
07/08/2020
Chris F.
United States
07/05/2020
Jeffrey .
United States
Awesome!
I really like it because it keeps my gun ready and safe at the same time! I am very satisfied with this product! I don't have to worry about someone else taking my gun. It's pretty fast and easy to use. Other gun safes on the market require you to use a combination or a specific method to open. This is really fast for when you need to get your gun out and ready to use!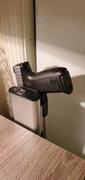 06/30/2020
Jeffrey .
United States
5 starts
I am very pleased with this product. I have been looking for a really good gun safe and I have found it! I am very satisfied and a customer for life! Awesome product!! Five stars!!
06/17/2020
Augustin M.
United States
Like the Holster safe
The Safe was simple to install, and so far easy to use. I mainly wanted something for quick access on the side of my bed. I looked at other products and they were either to bulky or not good for quick access. The price was a little high, but for the convenience and quality it's worth it. I'm also interested in the car mount, so will get that next. All-in-all it's a great product and looking forward to more ad on's!