Vara Safety
Car Mount Adapter
The Car Mount Adapter is an additional way to mount Reach to more than the center console of the car. The Car Mount Adapter comes with three (3) different mounting brackets that allow you to use Reach as a vehicle gun safe.

Bolt-in plate: Allows you to mount Reach using the existing bolts of the vehicle seat. Simply loosen the bolts under the vehicle seat, install the plate, and tighten down.

Drill-in plate: Allows you to directly drill the plate into the floor of your car and mount your Reach unit.

Right angle adapter: Some vehicles have seat bolts that come out sideways, this adapter is meant for that.
Customer Reviews
09/21/2020
Aaron .
United States
Peace of mind !
I recently received a SERIOUS death threat to me and my father who is 73 through an app. The police are still looking for the person. I was forced to buy a hand gun to protect my family. I went through I don't know how many gun safes before I found this one. I have it mounted to the side of my bed because it's easy to reach and a criminal would have a difficult time cutting the bed frame to steal it our worse use the gun on me. I am so happy with my purchase that was so inexpensive and so easy to install. I plan on purchasing another to add to my car. Thank you all so much for making this product and I will continue to endorse this to my friends! Sincerely, Aaron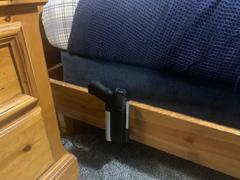 09/03/2020
Anonymous
United States
Car mount adaptor
Overall installation and positioning are outstanding. However, should someone see the system they could easily yank it out since there is no tether or cable to secure the entire system more robustly in the vehicle. Adding this second security point would go a long way in safely securing a weapon.